UPDATE - Donations for two Refugee Families
UPDATE - Donations for two Refugee Families
October 14, 2016

Mary Nichol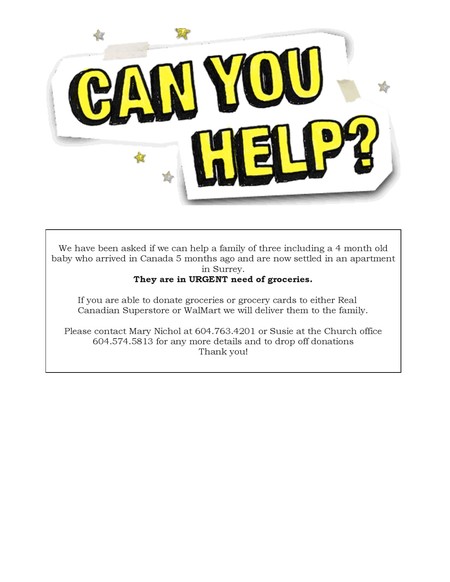 We currently are looking for the following donations for two refugee families
-Groceries - dry goods, canned fruit, veggies, diapers and grocery cards to Real Canadian Superstore
- Dresser: this needs to be a very specific size so please contact the office for more details
- Laptop
- Lamps - floor
For all possible donations please contact the Church Office at 604.574.5813 or Mary Nichol at 604.763.4201 to find out if there is still a need for the item(s).
Thank you to both Cloverdale and Hazelmere folks and many others from our wider community for all the donations for our refugee family and their new home.
Your generosity is greatly appreciated.
Available Files to Download
To download, right-click the file and select "Save link as".